October 29th, 2013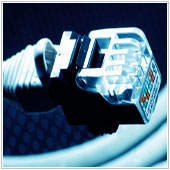 The website is one of the most important tools a company can employ. It is often the first major point of contact for potential customers and many businesses are quickly getting online. If you are focusing on your online presence and developing a corporate site then to get to the point of seeing this on the Web entails the site being hosted. The confusing issue here is that there are so many different hosting options out there, so making a decision can be a challenge.
Here is an overview of the four main types of hosting services.
Free hosting Free hosted sites are, just as the description suggests, free. This type of hosting is best for non-essential websites that don't represent a full business. Because of the no-cost structure, there usually tends to be a large number of hosted sites and service can be slow (websites will be slow to load), or will be down more often when compared with other types of hosted sites.
While some free services allow you to have your own domain name e.g., www.yourcompany.com, many require you to have a sub-domain e.g., www.yourcompany.hostingservice.com. Because of this, you can't easily transfer sub-domains to another hosting service.
Virtual hosting This type of hosting, also commonly referred to as 'shared hosting', is where you share one server with other clients. This server is owned by a hosting company who manages and maintains the server while you can use your own domain name and manage your own website.
Because you share the server with other customers, this type of hosting tends to be quite affordable. The downside is that you also share the server's resources, so if one site is seeing lots of traffic and using the server's resources, other sites on the same server will be slower.
Collocated hosting With collocated hosting you buy your own server for your website. The server isn't stored on your premises though, it will be at the host's location instead. The host takes your server and plugs it into their network.
Most collocated hosts ensure that your server and the network it is connected to is always available, but you will be responsible for actually managing and maintaining the physical server and the software or website on it. Some better collocated hosts will offer a service where, for a monthly fee, they will maintain your server and provide support.
Dedicated hosting With dedicated hosting, the server you use is exclusively for your website. This is the fastest type of hosting, as your website is the only one using the server's resources. There are actually two common types of dedicated hosting:
Unmanaged - You host the server either in your office or a similar location and have full control over it, including all the necessary maintenance and support. This can be the most expensive type of hosting, especially since you will likely need an IT support team to manage the server. It is great however for large companies who have websites with high traffic.
Managed - You lease or buy a server from a company. The server is usually in your office but can be managed by the company you lease it from. The company manages and maintains it, ensuring that your server and website are always available.
For many small businesses, a dedicated server solution likely will be too costly, especially if you have a simple website. If you are looking for help hosting your website and choosing which type of host you would like to work with, please contact us today to see how we can help.
Published with permission from TechAdvisory.org.
Source.